Publications

Blegen M, da Silva E Silva DA, Bock R, Morisot N, Ron D, Alvarez V. Alcohol operant self-administration: Investigating how alcohol seeking behaviors predicts drinking in mice using two operant approaches. Alcohol. 2018 Mar;67:23-26. doi: 10.1016/j.alcohol.2017.08.008.
​​Morisot N, Novotny C.J., Shokat KM and Ron D. A new generation of mTORC1 inhibitor attenuates alcohol intake and reward in mice. Addiction Biol. 2018 Mar;23(2):713-722. doi: 10.1111/adb.12528.
​​Phamluong K, Darcq E, Wu S, Sakhai S, Ron D. Fyn Signaling Is Compartmentalized To Dopamine D1 Receptor Expressing Neurons In The Dorsal Medial Striatum. Frontiers Molecular Neuroscience. 31 August 2017.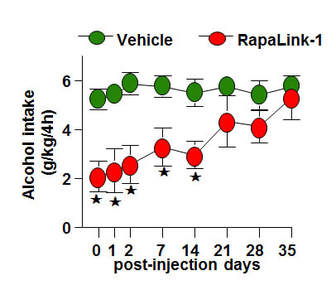 ---